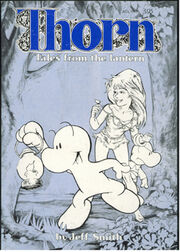 Thorn
was a comic strip created by
Jeff Smith
during his college years for the
Ohio State University
's newspaper,
The Lantern
. It ran in the newspaper from 1982 to 1986.
History
In 1982, Jeff Smith, after being expelled from several art colleges, enrolled in the Ohio State University to study cartooning. During his time there, he wrote and drew this strip for the University's newpaper. The titular heroine was modelled after his wife, Vijaya Iyer, whom he met at the University, and the Bones were modelled after his childhood drawings.
Humor

Like Bone, Thorn had several jokes revolving around Fone Bone's crush on Thorn Harvestar.
Characters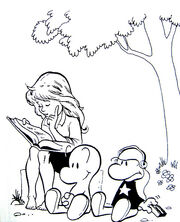 The characters featured in Thorn are early versions of the familiar Bone characters. In fact, many of the strips formed the basis for the first few chapters of Bone. The main characters were:
In 1986, three strips were submitted to The King and Tribune in an unsuccessful attempt to syndicate Thorn. According to Jeff Smith, these two newspaper syndicates somewhat liked this strip, but insisted on making several changes, which included getting rid of Thorn Harvestar and the Great Red Dragon, and having Fone Bone and Phoney Bone "think out loud" instead of actually talking. Smith tried to trick the editors into accepting the strip, but they rejected it.
Books
In 1983, a compilation of strips titled Thorn: Tales From The Lantern was released in the Ohio State University's market. It sold for only 1000 copies. At some time, it was available at Amazon for $1000.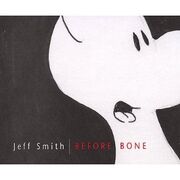 In 2008, to celebrate the strip's 25th anniversary, a limited edition titled Before Bone was released by the Ohio State University. It contained more strips than the previous compilation, and some bonus features. It sold 500 copies.